On paper, Google Stadia Base sounds great. After all, how can you beat free? Let's have a look at building a PC and go from there!
All Your Stadia Base are Belong to Google?
Yes, yes, it's a poor attempt at rewording an ancient meme… but Google aren't being daft here. Offering a free version to go along with the paid version is a tried and true method for giving a user a taste to get them hooked. When it comes to gaming, if the service is genuinely excellent then gamers will pile into there in numbers to simply try it. And it doesn't take a genius to see how easy they're going to want to make it for you to jump onto the paid service.
Although a lot of talk is on the 4K streaming, in this post we're going to take a look at the free version, namely Stadia Base.
Right now on the Google Store page there's very little to go off. We only know that:
Resolution: Up to 1080p
Frame Rate: 60fps
Now that "Up to…" is an important caveat. So before we get building, let's explain why Google are phrasing things this way!
Do I Need Super Fast Internet for Stadia?
Yes and no; this depends on what you would class as fast! A lot of this comes down to where you are in the world, and how much you're already paying your ISP.
As you might imagine, Google as a global provider for internet data servers gives them far more accurate insight over how speeds (good and bad) are spread out around the world. But Forbes did a great breakdown of this last year. We can compare this to the recommended speeds that Google released on their main page:
You can see that they expect a lot of developed countries with solid internet infrastructure to be good to go.
If you're curious, they do have a connection test tool for Stadia.
My personal test for my broadband connection here in the UK was tested at 136Mbps. Yet even for the UK, we have a huge range of speeds. The BBC reported that the slowest is just 0.14 Mbps, with an average of 46.2Mbps, but added that about 13% of homes had speeds below 5Mbps.
The simple answer here is: check before you make the plunge!
Beating Google Stadia Base: Thoughts Behind the Build
So, you know you have the internet speed, then why are you here reading about this build? Well, we know we can't exactly beat free, so what's the point of this build?
One of our main aims at Logical Increments is giving readers options when building a PC. We want to make the experience as fun and painless as possible, so that you're not worrying about, "Will part X be compatible with part Y?" and so on. That's partly what Google are banking on here, that you don't want to go through the hassle of building something yourself or buying a pre-built machine. Unless it's their Chromecast Ultra of course!
Yet Google Stadia is a product for a single purpose; playing games. PC's are very much multi-functional, which means a build gives us a lot more than just a gaming setup. Plus, somewhere along the line you need to have a compatible device to use Stadia. So, a fair comparison might be between the cost of The Stadia Premiere Edition versus a PC build, your mobile phone contract/purchase cost, Chromebook etc. The one thing we're not going to factor in is cost of internet. Although it's obviously needed for Stadia, it's needed for the majority of PC games too. Be that just to download a digital game or play multiplayer.
So, this is where we're setting our field to fight upon. We can't beat free, yet we can probably beat the cost of a lot of devices out there that you'd need to be able to play!
Let's get to the build!
---
The Build: Stadia Base Beater
Although the base version goes as low as 720p, we're going to stick with the advertised 1080p resolution and 60fps.
Admittedly, a number of these games might not be running on what we would class as ultra settings, yet we still want a solid experience. So we're setting this out for medium/high settings in most games.
It's hard to grasp the fact that it has already been a few years since this little thing came out. It's also crazy that these can be grabbed for $60-63 right now!
The main advantage here is overclocking potential out-of-the-box. We could have gone with a similar 2200G, but as we're not going to be using integrated graphics anyway, we're saving ourselves some more money to move over to our GPU choice.
You can run this at stock speed, yet when combined with our GPU below, you're probably going to top out at ~55fps average in games. As this is a (relatively) mature platform now, you should be able to safely overclock to 3.8GHz to hit that 60fps sweetspot.
We're also going to save ourselves some money by using the really nice cooler that AMD provides in the box. It's more than capable of handling the 3.8GHz overclock, although if you're going to push it to 3.9GHz (or higher) consider getting something a bit more meaty.
So, by the time you deal with rebates on this card, it's only selling for $140. For that, we're not only getting an 8GB GPU which is more than capable of 1080p gaming—but we're also getting 3 months of Game Pass for PC (and all the games that comes with), and a choice of Borderlands 3 or Tom Clancy's Ghost Recon Breakpoint for free too. So ordinary PC gaming can have stuff for free too, Google!
We're again liking the AMD option here, as we could potentially choose a FreeSync monitor with no hassle. Although NVIDIA have caved and are making their cards somewhat compatible, we're all about that out-of-the-box performance.
So yes, the combination here with the CPU should be giving us some really awesome 1080p 60FPS gaming!
Although we only need a B350 board, they're harder to come by these days, so we've gone with the newer B450 platform. Although this is an entry-level board, it still has everything we need for the build, plus some expansion options for further down the road if needed.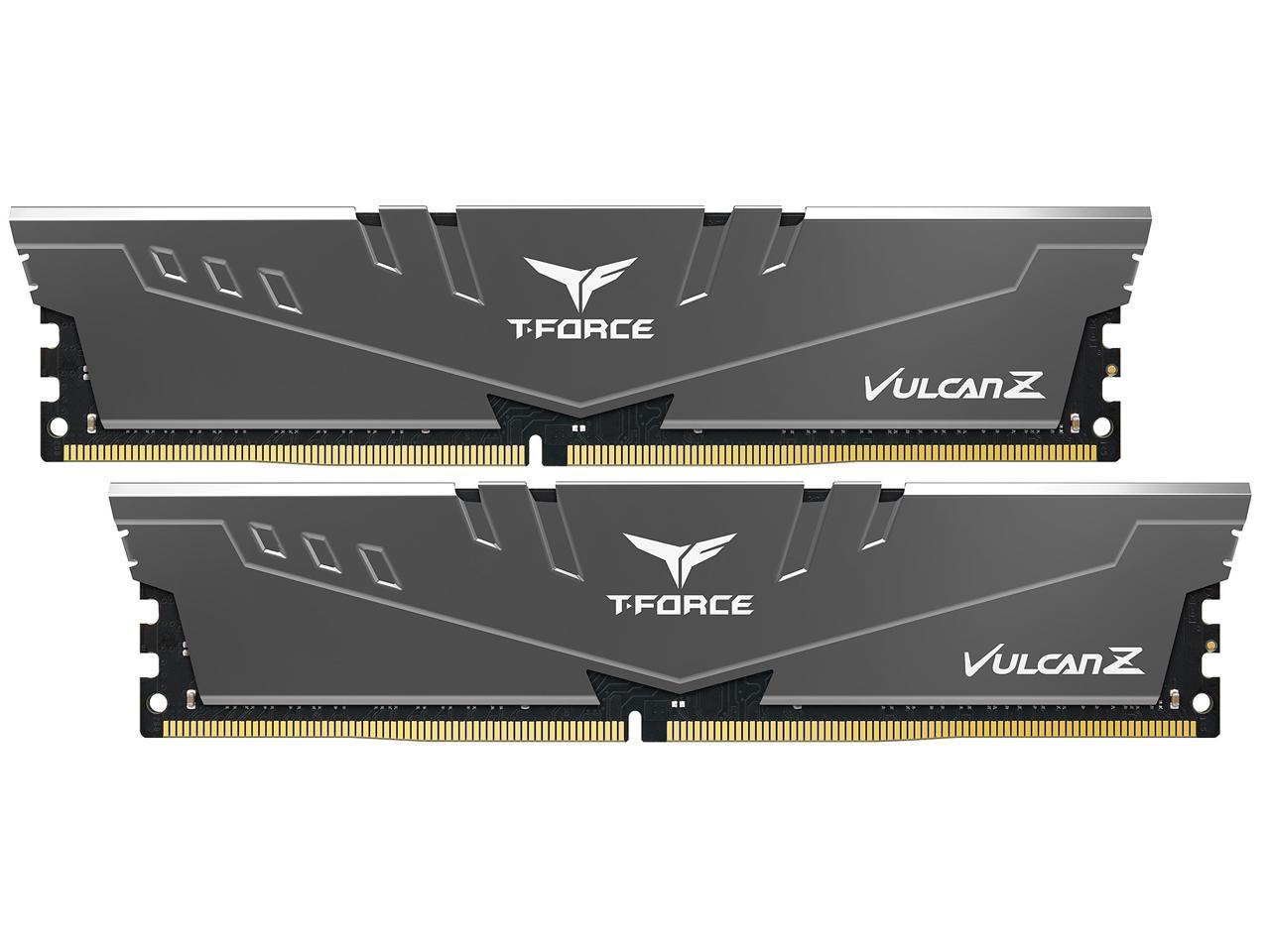 One of the negatives of first-gen Ryzen is how it behaves (or more accurately, doesn't behave) with high-speed RAM. Although it does give a speed boost using faster RAM, usually anything faster than about 3000 MHz results in a failure to post. The one good thing for us is that, as demand for faster and faster RAM has increased, the prices of this speed have dropped. Plus, 16GB capacity is plenty for our gaming and productivity needs.
Although you can get a 1TB drive for around $35, the 2TB capacity has become the sweet spot for size-to-cost ratio in recent years. This particular HDD has a (larger than usual) 256MB Cache because it's marked as one of their compute drives, so that's a nice bonus to have to compensate a little for the slower read/write performance of the drive relative to an SSD.
We can save ourselves a little bit here too, as we don't need a crazy beefy PSU. This 550W modular power supply is plenty, and is great for making our build nice and easy to get up and running.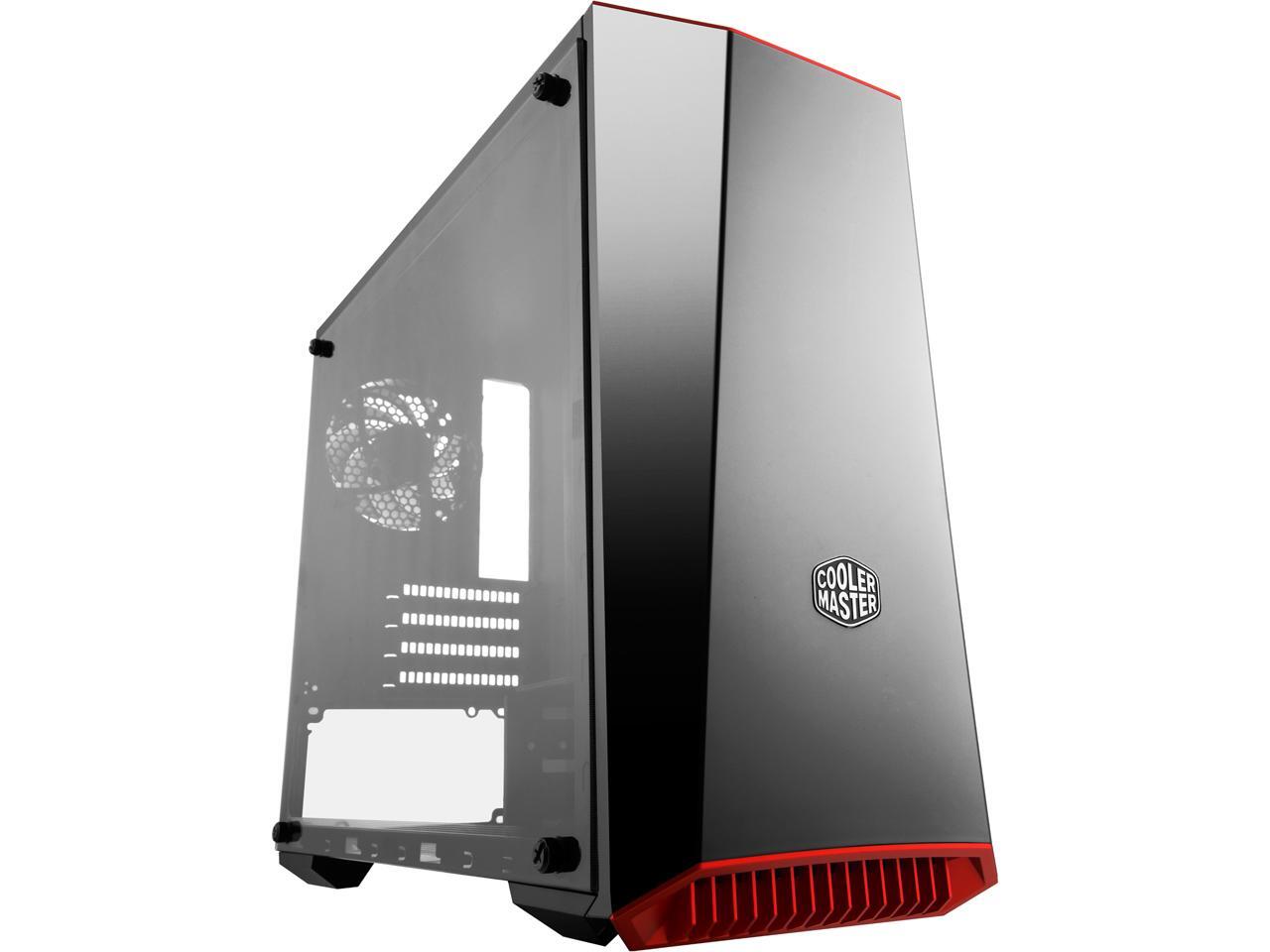 Finishing off the build is the solid MasterBox Lite from Cooler Master. Along with the very nice fully transparent side panel, you can also change up the trim color for this (included in the box). Along with the red in the image, you have white and black if you're going for a particular style. Outside of the style, it has a well-thought-out internal design which makes building very easy!
Total Build Cost: ~$450
So there you have it, a decent 1080p gaming PC capable of 60FPS in a whole range of games!
To beat this, you're realistically going to have to buy into the Stadia Premiere pack. However, like we said before, this makes it competitive with the compatible devices for Stadia at launch. If you look at Google Pixel 3 prices, they're around $500. Sadly, we can't quite get down to as low as it's baby brother the Pixel 3a at $400, but we'll take a whole PC for this price as a bonus!
All told, we feel that this is a very viable alternative to Stadia Base, yet we're not the most impartial in the world. Let us know your thoughts in the comments!
Benchmark Sources
Go Forth and Build!
Now before you go all bonkers spending every saved up penny you have on these components, there are extras that you might need to finish off this Stadia Base Beater build:
A copy of Windows. If you are a student or work for a big business, you might be able to get a copy for free or at a significantly lower cost. If not, we recommend Windows 10 on disc ($90) or USB ($120).
An optical drive—critical if you are wanting to install Windows 10 via disc. Good thing here is DVD-RW drives are cheap these days (here's one for $21).
We also have general recommendations for:
If you want to see other builds with even higher performance, check out the main page at Logical Increments.