CES 2022 has come and gone. And with it being the first in-person CES after an online-only hiatus (with a new Covid-19 strain, at that), it is not surprising to say that CES had a rocky year, presentation-wise. Lots of issues cropped up, including everything from big tech companies canceling their attendance to the entire event being forced to run a day shorter due to health concerns.
But regardless of the doom and gloom, CES has not failed to deliver another exciting year filled with the latest, greatest, and wackiest that tech has to offer. Here's our top 5 choices of discrete devices, cutting-edge peripherals, and other new tech to look out for in 2022 and beyond.
---
#5: Phones with Specs Rivaling PCs (OnePlus 10 Pro)
At number 5 we have a new phone: the OnePlus 10 Pro. Set as OnePlus's next flagship phone, the 10 Pro is all that you would expect out of a competitive flagship. One positive of it already being released (in China) is that we have all of the specs except for the price. A quick rundown follows:
Snapdragon 8 Gen 1 CPU with 8 Kyro cores bringing 20% better performance at 30% more power efficiency over last year's model.

12GB of LPDDR5 RAM

256 GB of fast UFS 3.1 Storage

150 FOV Hasselblad Camera

80W Charging and 50W wireless 

1Hz – 120Hz Adaptive Display

Android 12
One particularly exciting feature of the OnePlus 10 Pro is the 80W SuperVOOC charging, that can allegedly charge from 0-100% in as little as 32 minutes. Needless to say, the OnePlus 10 pro represents the next step in phone technology, and for that it is given a place on this list.
This is the one and only item on this list that you can already buy as of now (well, if you're in China). For other countries? The release date is yet to be announced, but since it's already out there, it's not far-fetched to assume that it'll be available worldwide quite soon. It is a bit odd, however, that nothing about an international launch has been mentioned yet.

---

#4: 8K Resolution Televisions (Hisense U9H Mini LED TV)
Hisense has been building up to be one of the best bang-for-the-buck TV companies in recent years. During this CES, Hisense has once again not disappointed by announcing several ULED TVs (only applies to the U9H and U8H) for every budget.
The highest-priced 76-inch model U9H technically takes the crown as the flagship of the three. Coming with over 1280 dimming zones, 8K resolution (4K gaming at 120Hz and AMD FreeSync support for all your gaming needs), and a peak brightness of 2,000 nits.
If you're planning to get a new TV in a couple of months, then the U9H set to release during the late summer for $3200 is a good choice to consider. Alternatively, the U8H and U7H are also set to ship in mid-summer with a lot more size options. The U8H in particular (coming in at the much more affordable $1100) has almost all of the U9H's features, with the main downgrade being the lower 1,500 nits peak brightness.
---
#3: Sony's Virtual Reality Headsets for the PS5 (PSVR 2)

Even with what little information we've had about the PSVR 2 so far, it has been exciting enough to earn a spot on this top 5.
The advancements in VR tech that the PSVR2 is promising to bring to the table set it up as a brilliant entry point into next-generation VR headsets. It will, of course, be the main VR offering for the PS5. They'll feature new haptic feedback Sense controllers, combined with eye tracking—which, other than providing another interesting input medium, will allow developers to optimize the visuals of their game by tracking what the user is looking at through foveated rendering.
Further specs also include 4K HDR / 2000 X 2040 per eye, 110-degree field of view, and 90/120HZ frame rates. Unfortunately, no pricing information nor release date was offered. But nevertheless, the PSVR2 is one exciting headset to look out for, and sets the scene for the next generation of console VR.
---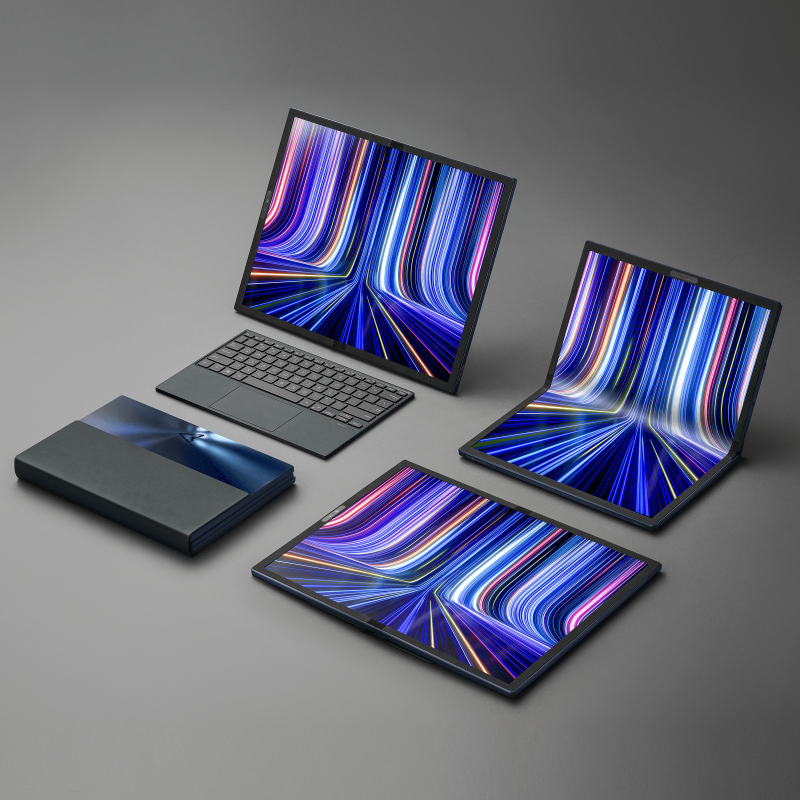 #2: Foldable Computers (Asus Zenbook 17 Fold OLED)
Nothing screams futuristic (and, uh, bordering on sci-fi) more than a foldable display. This technology, which has previously been limited to phones, is now starting to break into the tablet and laptop market. The Asus Zenbook 17 Fold OLED is kicking the gate open for what could be a future category of laptop/tablet hybrids. Spec-wise, the Zenbook comes with a 12th-gen i7 U processor, 16GB of RAM, and 1 TB of storage.
What the build quality will be like (especially over time) is yet to be seen, but will likely feature heavily in reviews when it releases later this year—in Q2 2022.
---
#1: High-refresh-rate 4K Monitors (Samsung Odyssey Neo G8)
For the prestigious first place, we've picked the Samsung Odyssey Neo G8, an absolute monster of a display that makes having the previously impossible (a 4K resolution paired with a 240 Hz refresh rate) a reality.
The 34-inch monitor boasts the first-ever 4K 240Hz display, paired with a 1ms response time. All this is packaged in a 1000R curve, with "quantum mini LED backlighting." That fancy phrase apparently translates into a peak brightness of 2,000 nits.
Needless to say, if you're a gamer with the required cash, then the Neo G8 is a very attractive screen to wait for.
---
Conclusion
And that's our top 5 list! There was a whole lot of amazing tech from all sorts of categories, some of which we didn't have a chance to represent here. Obviously, here at Logical Increments we are especially interested in the internal PC component announcements, but (as you might expect) we'll have dedicated coverage on some of those as time goes on.
Anyway, let us know what your most exciting reveals were, and what you thought of this list!