With the upcoming release of a consumer-level 8K video camera from Canon in the EOS R5—comes the neverending challenge of getting a powerful enough PC for working with top-of-line video capture output. So, what computer parts are needed for processing 8K video files? Let's take a look at some components!
Who Cares About 4K Anymore?
Okay, so that's a bit of a cheeky heading.
The potential importance of this conversation can be lost in translation for many people, because there is a disconnect between what an end-user experiences on their device when consuming video media and what is experienced by the individual or team creating the content in their workstation.
Right now, the vast majority of the world consumes footage in HD… which is to say, most people are watching TV, movies, and web videos at 1080p.
Although 4K TVs and computer monitors have started to gain popularity, they are very far from becoming ubiquitous. And even people that have those may not realize that their source is still providing them 1080p footage (whether that source is a streaming service or a media server). Some folks can see resolutions above HD if they go to the cinema and watch an IMAX presentation, which would probably be at 2K, but that's not super-common either.
Even 4K still not 8K, though… so, what gives?
Why 8K Matters to Creators
This all comes down to flexibility on the production side. Any time you're manipulating footage, be it for CG elements, stabilising, or re-framing—the higher the resolution of your original footage, the more wiggle room you have to work with. If you're working with 1080p footage for a 1080p project, and you want to zoom in on something, you've immediately dropped the resolution of that part of your video below 1080p. But if you're working with 4K footage for a 1080p project, or 8K footage for a 4K project, you can zoom and pan and twist the footage to a significant degree while maintaining a full 1080p or 4K output. Plus, if you have a lot of RAW data in your files, you have more data to work with when identifying and correcting shooting issues via post-processing.
The reason why there's a lot of talk around the Canon release mentioned in the intro of this article is that this is a compact, full-frame, mirrorless camera with both sensor stabilisation and lens stabilisation capable of 8K internal RAW recording at up to 29.97fps and 4K at up to 119.88fps in either 4:2:2 10bit Canon Log or 4:2:2 10bit HDR PQ. This is a genuine leap ahead of the competition, and (most crucially) it will be coming in significantly cheaper than a full-blown cinema camera.
Basically, I came up with this article because specifically because this new camera that's coming out is pretty damn powerful for its size and price. It's suitable for shooting 8K footage at the frame rates used for professional movie projects. This makes it useful for both a main camera on smaller productions and 2nd camera on shoots using a full-fledged cinema camera.
With Great Resolutions, Comes Great Hardware Needs…
So, the camera itself can record the footage internally, but then what happens when you want to work on it? 8K RAW bitrates essentially mean the camera is shooting its footage onto a CFexpress card. Readers for the format start at around $40 and go higher depending on connection type.
However, getting this onto your PC is only part of the issue. How are you going to fit entire projects' worth of these files on your hard drive? And, more importantly, how on earth are you going to work on the footage without your PC slowing to a crawl? Well, let's take a look at some parts for a build to see just how you can build a PC for working with 8K footage.
---
The Build
I think this is possibly the first time I've ever referred to this CPU as 'the minimum' for a situation. You could go with a Threadripper CPU here, if you wanted to do more high-end model work with the system or just push Premiere Pro to its maximum. However, for straight-up editing in the likes of Premiere Pro, this is just about the best we can get for the money (especially because we need the funds elsewhere in the build).
To provide efficient cooling, we've gone with a slightly large 280mm AIO water cooling solution from EVGA. Not only does this model allow for excellent overclocking capability, but it can do that while being quiet under load too. A solid option all around.
So, although there are a lot of X570 boards out there, the one limiting factor (if you could normally call it that) is the available RAM speeds at high capacities. This motherboard has no such limitations. In addition to this, the level of connectivity is impressive with this board, too.
The first of the really big chunks of change goes right here. This choice is mainly because Premiere will utilise the RAM when you have your monstrous footage loaded in. 3200MHz is about as fast as you can get away with for 128GB. Still, despite the cost, the 128GB is recommended for 8K footage. RIP wallet.
Acting as both a solid amount of long-term storage for software and completed projects, as well as a boot drive, we're employing 2 inexpensive SSDs from Crucial.
Acting as our main work drive comes the mighty MP600. Although "normally" there isn't much use for PCIe 4 devices, the sheer bitrate and size of the files at 8K means we can see a solid benefit from this drive. Which isn't surprising with that 4950MB/s read and 4250MB/s write. So not only can we dump files onto this fast, we can scrub through it smoothly as well.
Yet another chunk of change goes into the GPU here. Again, this is down to the software like Premiere Pro needing at least 10GB of VRAM when handling 8K footage. Keep in mind, this is the minimum recommended here; you can go higher, but we're trying to keep costs down, believe it or not!
To power this monster, we've gone with a very-highly-rated fully modular PSU from SeaSonic. This is platinum-rated thanks to its excellent power delivery and safety features, making it a wise purchase for a build using expensive hardware like this.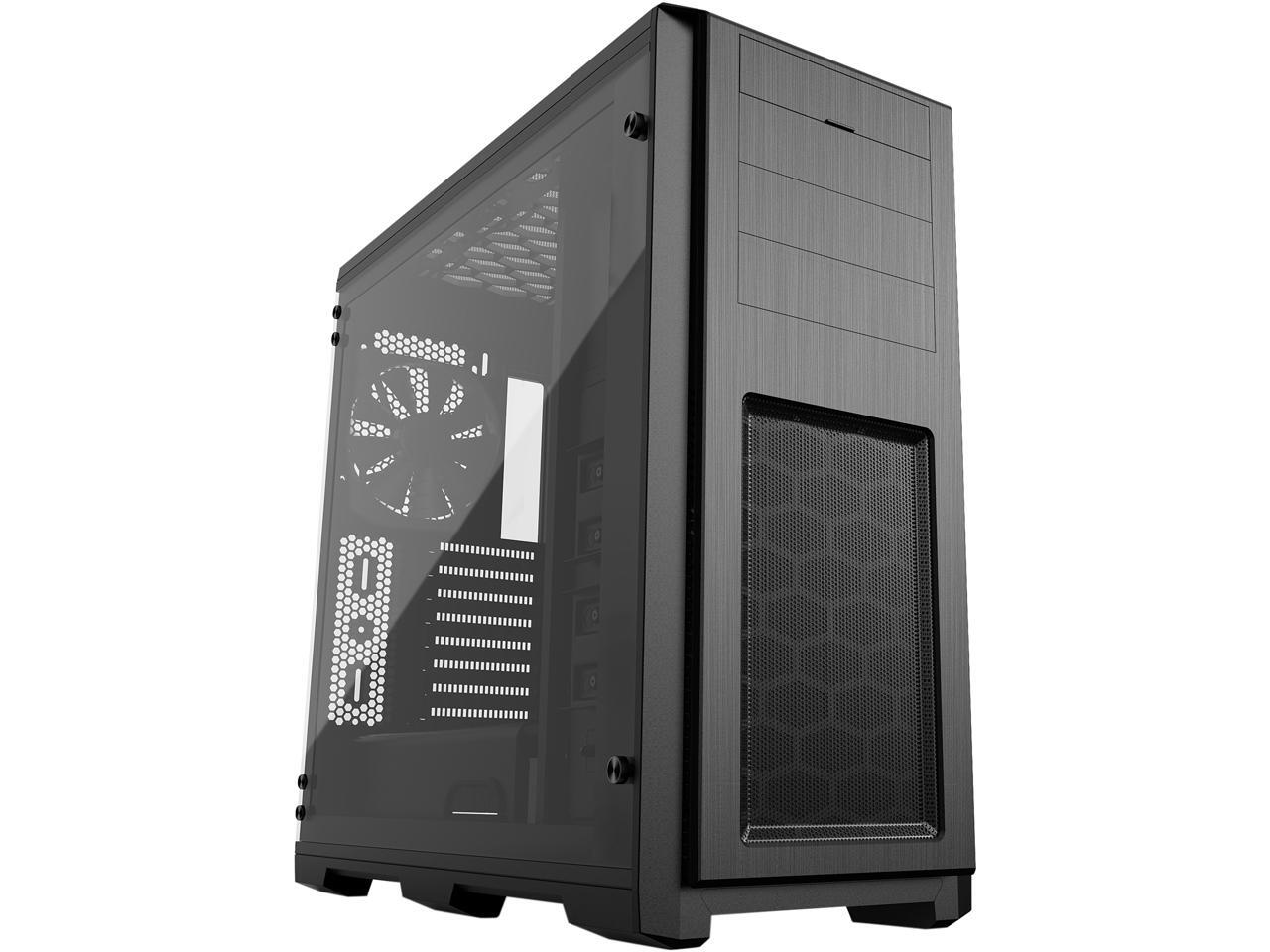 Picked for both its superb internal design, its connectivity, and its overall professional aesthetics, the Enthoo Pro finishes off the build nicely.
Total Build Cost for 8K Footage PC: $4200
So, it's not cheap. Not even in the slightest. Then again, look at what we're getting for the money here: super-fast storage, loads of high-speed RAM, a top-end graphics card, and a 16-core/32-thread CPU. If you need a computer for working with 8K video footage, this is the way to go about it.
The thing is here that the upcoming camera that inspired me to write this article, the Canon EOS R5, is $3899. So, if you're going into a purchase like that, you should be reasonably aware of what is needed to work with it. Not to mention, this isn't the best you could get. If you were to spend another $1000 or $2000 on top of this, you could bump up for a Threadripper build like the 'God-tier' video editing PC from the first section of our dedicated video editing guide. Add in yet more, and you can swap the GPU out for a high-end pro-grade card with even more VRAM.
However, for now, this is about the minimum you can get while obtaining enough performance to handle all that 8K footage goodness.
---
Go Forth and Build!
Now, before you go getting that second mortgage on your home for all of this new gear, there's a few extras that you need to be aware of:
A copy of Windows. If you are a student or work for a big business, you might be able to get a copy for free or at a significantly lower cost. If not, we recommend Windows 10 on disc ($90) or USB ($120).
An optical drive—critical if you are wanting to install Windows 10 via disc. Good thing here is DVD-RW drives are cheap these days (here's one for $21).
We also have general recommendations for:
If you want to see other builds with higher performance, check out the main page at Logical Increments.
There you have it—a fully tricked out PC for working with 8K footage!
If you have any questions or suggestions about this build, then let us know in the comments.