We took a list of hundreds of current laptops and spent dozens of hours comparing specs, reviews, and prices, and we've created a list of the best gaming laptops for your money. Whether you're on a budget or looking for the most powerful gaming laptop for fortnite, this guide is here to help you.
---
If you're on a budget but wanna play the latest competitive games, this is the machine for you. With a GTX 1050 Ti and the G4560 CPU you can play Overwatch, Dota, League of legends (allowing you to buy lol smurfs so you practice) and CS:GO on 1080p with 60 FPS no problem. It also offers 1TB of storage which is plenty. It doesn't come with an SSD but for the price of it's performance that's an acceptable sacrifice.
If you're looking to play the latest AAA games, the 1050 Ti can manage that if the graphical settings are reduced.
For $700 it offers great specs and value. But if it's not on sale then you're better of spending your money on the Asus FX502.
Laptop Specs
GPU: GTX 1050 Ti 4GB
CPU: G4560 3.5GHz
Ram: 8GB DDR4 2400 MHz
Storage: 1TB HDD 7200 RPM
Screen Size and Resolution: 15.6″ 1920×1080 IPS
---
With a beefy GTX 1060 (3GB version) and an i5 CPU, this laptop offers a very solid option for serious gamers on the move. You can expect to play the latest games on 1080p with reasonable FPS on this laptop. It also has an IPS screen.
This laptop comes with 16GB of ram which is enough for any game out there. The keyboard in this laptop is also very suitable for gamers. It has highlighted WASD keys, for all those late night gaming sessions where you can't turn on the light for some reason.
This laptop comes with 1TB of HDD of storage, which is plenty and could always be swapped out for an SSD down the line. If you're looking for a great gaming Laptop at this price, you can't go wrong this Asus.
PCverge says, "Simply put, while the FX502VM-AH51 may not have the best extreme performance scores, it manages to beat competitors on a feature-by-feature basis"
Laptop Specs
GPU: Nvidia GTX 1060 3GB
CPU: i5 6300HQ (2.30 GHz) (Turbo to 3.2 GHz)
RAM: 16GB DDR4 2400 MHz
Storage: 1TB HDD 7200 RPM
Screen Size and Resolution: 15.6″ 1920×1080 IPS
---
Now we're moving to some serious firepower. The GTX 1070 is considered to be the best price per performance GPU right now. And this laptop is backed up with an i7 6700HQ which provides a nice balance of CPU to GPU power. With it's specs you can boost an impressive 80 FPS on GTA V, which is nothing to scoff at.
It also has 256GB of solid state storage. You can store your operating system and have plenty of space left over for other programs. The laptop also comes with 1TB of HDD for all your photos, videos, and larger games you're willing to take a small hit in loading times on to save SSD space.
It gets quite hot while gaming so keep that in mind. But if you want to hit the sweet spot of great gaming performance without destroying your wallet, this laptop is for you.
Laptopmag compliments this choice by saying, "The Asus ROG Strix GL502VS-DB71 is good for gamers who prize power and portability, but plan to stay plugged in."
Laptop Specs
GPU: GTX 1070 8GB
CPU: i7-6700HQ (2.60 GHz) (Turbo to 3.5 GHz)
RAM: 16GB DDR4 2133 MHz
Storage: 256GB PCIe SSD, 1TB HDD 7200 RPM
Screen Size and Resolution: 15.6″ 1920×1080 IPS
---
The HP Omen 17 has the same GTX 1070 as the ASUS ROG GL502. But it comes with a newer, faster CPU, more SSD storage, and a bigger, higher resolution screen.
Not only does it improve over the ROG 502's strengths. It also removes some of it's weaknesses, having better cooling and faster (2400MHZ) ram.
Of course the improved specs come at a price. The Omen 17 costs $2000, still all those perks are well worth it if you want a little more out of your gaming laptop.
Laptopmag said, "The HP Omen 17 offers high-end gaming and VR performance in a portable package for less than $2,000, and it looks good doing so."
Laptop Specs
GPU: GTX 1070 8GB
CPU: i7-7700HQ (2.80 GHz) (Turbo to 3.8 GHz)
RAM: 16GB DDR4 2400 MHz
Storage: 512GB PCIe SSD, 1TB HDD 7200 RPM
Screen: 17.3″ 3840 x 2160 IPS
---
This MSI beast is packing serious hardware: A quad core, 3.6 GHz I7-6820HK CPU and the mighty GTX 1080, the most powerful GPU currently available in a laptop.
This laptop also includes a 120 Hz G-Sync display. This 120 Hz screen is a noticeable improvement in games compared to the standard 60 Hz screens, especially is FPS and other fast paced games.
Storage could be a little better. It has the standard 1TB HDD, but the SSD is only 128GB. Enough space to fit Windows and a few games, but pretty weak for what you're paying, especially compared to the cheaper options on this list. 16GB of DDR4 ram is more than enough for this powerful machine.
This laptop is also pretty heavy at 9 pounds. The battery cable is only 4 feet long, so you'll be hugging the wall with this laptop. Changing the charger cable would be very helpful if you want more freedom. And you'll need to be plugged in, because like all of these powerful laptops the battery will only last a couple hours.
Overall this laptop provides a ton of power for the money, as long as you're comfortable with the tradeoffs.
As Techspot says,"Those who are after the best possible specs should look no further than this massive unit, as it delivers from a hardware and performance perspective."
Laptop Specs
GPU: GTX 1080 8GB
CPU: I7-6820HK (2.70 GHz) (Turbo to 3.6 GHz)
RAM: 16GB DDR4 2400 MHz
Storage: 128 GB PCIe SSD, 1TB HDD 7200 RPM
Screen: 17.3″ 1920 x 1080 IPS 120 Hz G-Sync
---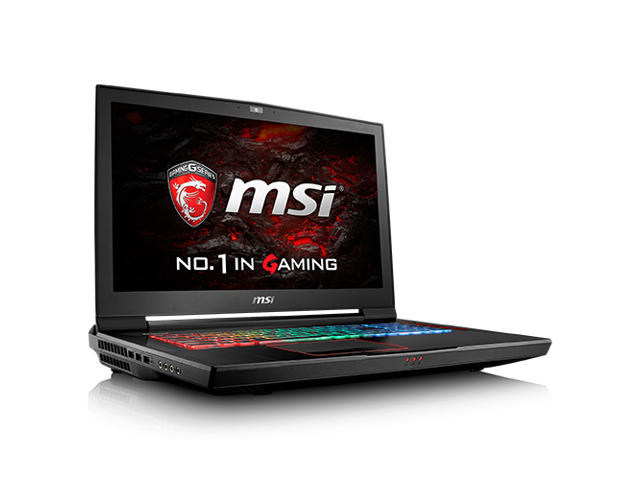 Another high end MSI laptop, so how is this one worth your money?
The benefits of this laptop over our previous recommendation are more SSD storage, bigger resolution and tons more ram.
The higher resolution will really make watching videos a better experience (provided you can find 4K versions of what you want to watch). Combine that with an IPS panel for better color reproduction and viewing angles than a typical TN panel and you've got yourself a beautiful machine here.
Storage will also be a big step forward. With 1TB of SSD and 1TB of HDD, you'll have enough space to store all your games and most of your shows.
Laptop Specs
GPU: GTX 1080 8GB
CPU: i7 6820HK (2.70 GHz) (Turbo to 3.6 GHz)
RAM: 64 GB DDR4 2400 MHz
Storage: 1TB GB PCIe SSD, 1TB HDD 7200 RPM
Screen Size and Resolution: 17.3″ 3840 x 2160 IPS
---
As of July 2017, a dual GTX 1080 laptop is the most powerful you can own.
Have we mentioned that it has Two (!) 1080's?
This laptop can max out any game available. Having this much firepower on the move is unheard of. It also comes with an i7-7920, the latest high end laptop CPU to come out from Intel. For the average gamer, 64GB of ram might be overkill but it's great for video editing.
The MSI GT83 VR comes with a mechanical keyboard. It's not the first laptop to feature Cherry keys but it's the first to have Silver Speed Cherry keys. Silver keys take the same force as Red cherry keys (considered by many the best for gaming) but has a shorter actuation distance*, making it even better for gamers.
For storage it has the standard 1TB HDD. The real focus is that it comes with an equal amount of space of SSD. Thats plenty of space for all your games and programs that need the speed.
It would have been nice to have higher resolution on the screen. Dual GTX 1080's are overkill on only 1080p screen resolution. However if you can hook the laptop to a 4K screen then you can take advantage of it. It is at least IPS, so you won't be losing any color accuracy or getting poor viewing angles despite the resolution drop from Titan Pro.
This laptop serves multiple purposes. It can be used for gaming, watching videos and weightlifting. At 12 pounds this is the perfect laptop to work your biceps!
For maximum performance, you really can't go wrong here. A very hefty laptop for a hefty price, happy gaming.
*Actuation Distance is how much distance a key needs to be pressed down for it to register. On Cherry red it is 4.5 mm. On Silver keys it is 3.4 mm.
Here's what LaptopMag says about this laptop, "If you have the bankroll and want one of the baddest desktop replacements in the land, the Titan is definitely for you."
Laptop Specs
GPU: Dual GTX 1080 8GB
CPU: i7-7920HQ (3.1 GHz) (Turbo to 4.1 GHz)
RAM: 64GB DDR4 2400 MHz
Storage: 1TB PCIe SSD, 1TB HDD 7200 RPM
Screen Size and Resolution: 18.4″ 1920 x 1080 IPS
My friend recently wanted to combo their brand new gaming laptop with a better deal on his broadband. He got a great deal from Usave. Worth checking out if you want to save some money on your broadband.