Are you seeing all of these Ryzen releases and thinking, "Everything is still too expensive!" Or even, "I just want to play Fortnite and CS:GO at 1080p, I don't need all this!" Well, do we have the processor for you. Well, AMD does—in the form of the Ryzen 5 3400G.
From the Land Intel Forgot…
Do you remember, before all these huge core counts and big builds came up, when Intel randomly released a Pentium line of products? They weren't super-fancy, but they had some high-clocked cores and budget builders really liked them because they cost around $60-100.
It is with that time fondly in mind that we consider what AMD has released here: a refresh of their excellent iGPU chips. For this article, we're going to look at the bigger sibling, namely the R5 3400G, and build a super-cheap micro ATX system with it.
But first, the specifications!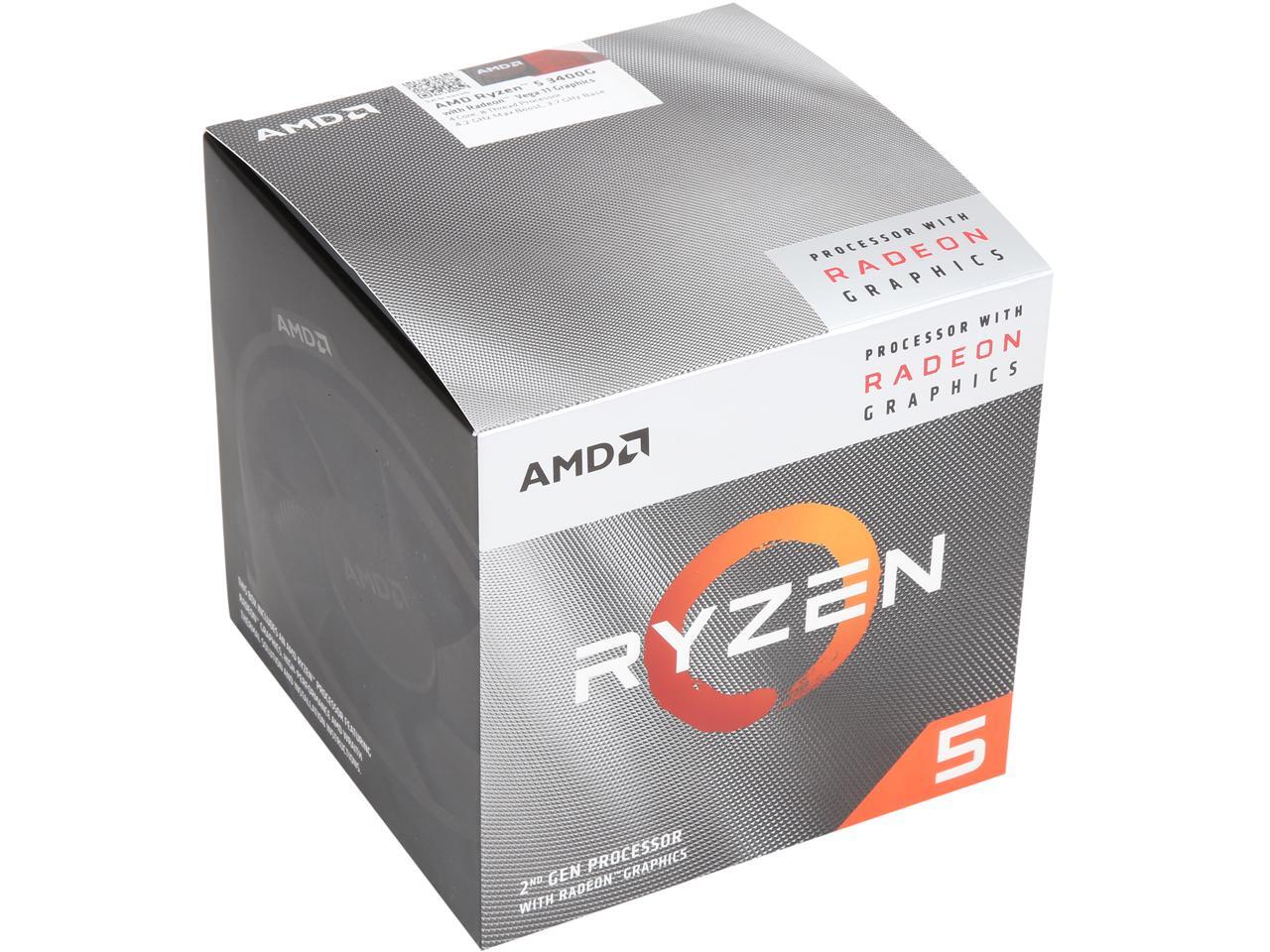 Specifications
Cores / Threads: 4/8
Base Clock: 3.7GHz
Boost Clock: 4.2GHz
L2 Cache: 2MB
L3 Cache: 4MB
Recommended RAM: Dual-Channel DDR4 3200MHz
TDP: 65W (when boosted, 45W low power mode available)
Graphics Type: RX Vega 11
GPU Cores: 11
Frequency: 1400MHz
I know, it's an odd one, right? The thing is that this isn't really intended to blow your mind. It's meant to be a budget option for 1080p60fps performance in most games, and, from the early benchmarks, it looks like it can manage that quite nicely. Some more intensive games might benefit from some light overclocking (this is still an unlocked processor, after all!) yet its out-of-the-box performance is still great.
One bonus we do have here is (as with a lot of the AMD processors) we can take advantage of the provided cooler from AMD to keep costs low!
With that being said, let's take a look at the rest of the build!
The Build
Although we're only going for 8GB of RAM, we've gone for a dual stick set, to squeeze a little more performance out of the setup, which has dual channel support.
A no-frills motherboard, allowing us the capability of overclocking as well as giving us enough spare slots to easily double up the RAM and/or add a GPU in the future if desired.
NOTE: You will need to check for a BIOS update for these boards to use this CPU. A lot of manufacturers of popular boards will have updates ready-to-go, but if you place this new CPU into this older motherboard it will not boot without the update! If you're reading this article after B550 boards are available, you may opt for one of those for maximum upgrade potential and to not have to worry about this note at all; but the B450 chipset should be totally sufficient for this particular CPU.
A reliable, very inexpensive HDD to use as storage.
A small, inexpensive SSD to improve on load times for the build without too much additional cost.
A cheap PSU (by cost, not by part quality) that is more than sufficient for our power needs in this build!
A simple case that provides enough space for the build, as well as all the features we need for a straightforward build.
Total Cost: $380
As you can see, this is a great budget build. I wouldn't be surprised if, once the madness of this Ryzen launch has calmed, you see the AMD Ryzen 5 3400G replace its older generation model in our Minimum tier on the main page.
What you end up with here is a super nice budget 1080p gaming PC. It would be ideal for both adults on particularly tight budgets and kids on particularly loose budgets (or kids with parents looking to build them a first PC without completely breaking the bank). Very much a great bang-for-the-buck build!
---
Go Forth and Build!
Now before you go all bonkers spending every penny you have on these budget components, there are extras that you might need to finish off this AMD Ryzen 5 3400G build:
A copy of Windows. If you are a student or work for a big business, you might be able to get a copy for free or at a significantly lower cost. If not, we recommend Windows 10 on disc ($90) or USB ($120).
An optical drive—critical if you are wanting to install Windows 10 via disc. Good thing here is DVD-RW drives are cheap these days (here's one for $21).
We also have general recommendations for:
If you want to see other builds with even higher performance (a short list at this point!), check out the main page at Logical Increments.
There you have it— a great compact build to utilize the best out of the new AMD Ryzen 5 3400G!
If you have any questions or suggestions about this builds, then let us know in the comments.